ABOUT DARGAH-E-HAKIMI BURHANPUR
The Dargah-E-Hakimi burhanpur is among the most holy places for Dawoodi Bohra Muslims. Burhanpur in the state of Madhya Pradesh. It was constructed in honor of the famous Saint Syedi Abdulqadir Hakimuddin Maula. Hakim is a Hebrew term that denotes a healer. Consequently, tens of thousands of Bohras pilgrims visit his shrine to take vows or mannats and ask for Shifa—a cure—for a variety of illnesses as well as to seek restoration of a healthy soul and body. Every dream is said to come true here, and everyone who comes here with a prayer on their lips is said to leave without being let down.
Thousands of pilgrims visit dargah-e-hakimi burhanpur each year to pay their respects at the memorial Dargah and ask for the saint's blessings. To accommodate the tens of thousands of Zuwwar who frequently throng to Burhanpur in search of spiritual peace.
Dargah-E-Hakimi is a significant religious and spiritual site situated in Burhanpur, Madhya Pradesh, 4 km from Burhanpur Railway Station. It is one of the well-known pilgrimage sites in Burhanpur and is located in Shah Colony.
HISTORY OF SYEDI ABDULQADIR HAKIMUDDIN MAULA
In the line of saints, Syedi Abdulqadir Hakimuddin Saheb (QR) was born in Rampura on November 10, 1666 (14 Jamadal Ulaa 1077H). Bawa Mulla Khan Saheb was the name of his father. A person of outstanding caliber and values, Syedi Hakimuddin Saheb demonstrated exemplary kindness, humility, liberality, and charity. In the Khidmat (Service) of Dawat (Spiritual office) and Mumineen(The Plural Of Moumin; Believer), he enjoyed extraordinary standing (true believer). He gave all of his profits to the advancement of the Deen (religious welfare) and the path of Allah.
He consistently observed the five times of Namaz, one of Islam's seven pillars and a fundamental part of the faith. People of all faiths flocked to him for advice because of his piety and intelligence. He may be described as the embodiment (avatar) of mankind.
In his early years, he memorized the Quran in its entirety. His reading of the Quran mesmerized the audience and even attracted the wild animals, which surrounded him while he read. He was a man of letters who, as a talented author and poet, contributed much to Dawat's literature. He produced historical writings in Arabic, Persian, Urdu, and Sanskrit.
He had a tradition of photocopying holy literature. Two copies of each Dawat Book were in his extensive library, one of which he gave to the present-reigning Daai (the head of the Dawoodi Bohra Sect) and the other of which he maintained for his personal use in passing on knowledge. He would go to one of the societies where Dawoodi Bohras lived every Friday to find out what was going on in the neighborhood. Numerous customs and activities for personal and societal welfare developed by him.
He was living in Ujjain and had been given the position of deputy head of the Dawoodi Bohra community by the current Daai.His daily schedule was very structured. Prayers in the Masjid in the morning are followed by recitation of the Quran with and by the community members as they come by chance, while simultaneously correcting any errors they may have made. In the Bohra community, this noble custom is still practiced today under the amended name "DAUR" (recitation in turn).
Following the Daur, Syedi Hakimuddin Saheb shared information on Deen (Sabaq) and finished the first half of the day by speaking with people who needed his help and counsel. This pattern persisted even in the afternoon after the Masjid's noontime prayers, which were followed by Sabaq (educational lessons) until the next prayer time and then Sabaq once more. He ate his meals according to a set routine and at the same times every day.
He used to have his first meal four hours after sunrise and his second meal two hours after dusk (sunset), both with a prearranged nap in between. After giving up his midnight prayers, he resumed writing books till daybreak as part of his routine and continued living a planned and predetermined life.
About two and a half centuries ago, the Syed Abdulqadir Hakimuddin (QR) Mausoleum was initially constructed. As a modest tribute to the noblest, Syedi Hakimuddin Saheb, the 52nd al-Dai al Fatemi Dr. Syedna Mohammed Burhanuddin Saheb (RA) requested that the Roza be renovated and beautified without altering the fundamental original design of the edifice in 1405 H (1985 AD).
In 1729 A.D. (1142 Hijri), Syedi Abdulqadir Hakimuddin Saheb (QR) traveled neighborhood of Burhanpur to preach Islam. To the very end, he gave service to the neighbourhood. He was a highly intelligent individual for his period. On Friday, November 25, 1729, A.D., he died at the age of 65. (1142 H, 5th Shawwal).
He gained notoriety as Hakimuddin, and rightfully so, as he was a healer thanks to his devotion to spirituality and religion and a source of consolation for the oppressed. Even today, hundreds of pious people visit his Dargah in search of healing for their bodies, minds, and souls by making Mannat (Vows) for "Shifa" from illness. It is stated that anyone who enters this place with a prayer on their lips leaves without being let down.
4th Safar-ul-Muzaffar, 1200 H. Wafaat.
Dawat lasts seven years.
Period of Dai: 1193–1200 H/1780–1787 AD
Syedna Abdul Taiyeb (R.A.) was a descendant of Bharmal and was born in 1147 H. Syedna Abdul Taiyeb (R.A), a learned scholar, was renowned for his piety and knowledge. He was the forty-first Dai in the Doat Mutlaqeen holy chain.In Burhanpur, he gave the order to build a Haveli or royal residence. The Haveli was constructed with magnificent carvings and engravings in the royal classical Rajasthani style. In 1197 H, the Haveli was constructed. Visiting Burhanpur in 1199 H, Syedna Zakiuddin (A.Q.) lived there before appointing Burhanpur as the capital of Dawat.
How to Arrive Dargah-e-Hakimi Burhanpur
The bus stand is (3.2 kilometers) away from Dargah-e-Hakimi burhanpur
From the bus stand, you can take a Rickshaw, or else you can take a horse cart to reach Dargah-e-Hakimi. The railway station is (4 kilometers) away from Dargah-e-Hakimi burhanpur
From the railway station, you can take a rickshaw to reach Dargah-e-Hakimi.
FACILITIES IN DARGAH FOR VISITORS
Lodging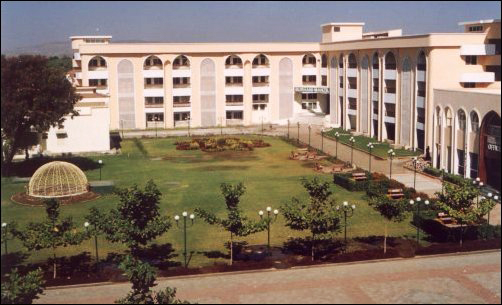 The Dargah-e-Hakimi burhanpur has large accommodation facilities, with 150 old rooms and 102 new rooms, in the form of Duplex Bungalows, to accommodate the thousands of Zuwwar flocking to Burhanpur on a regular basis in search of spiritual peace. These bungalows may accommodate up to 6 guests or 4 persons in a single room (double rooms). Aqa Moula (TUS) set the foundation for a new structure to house zuwwars in Shawwal 1419, and it is now complete. The structure includes three levels and 86 rooms. Its name is Burhani Manzil, and it also contains an elevator.
Mawaid
To accommodate zuwwars who visit for a day and don't need rooms, Dargah-E-Hakimi burhanpur also offers a freshly built general hall in addition to three other general halls for lodging with common restrooms.
In Dargah-E-Hakimi burhanpur, a Mawaid – Evan-e-Hakimi has been built in the charitable tradition of the Fatimid heritage. One thousand thaals can sit in the Mawaid at once. There is a rooftop, a first floor, and a ground floor. There can be 350 thaals on the ground floor, 350 on the first floor, and 400 thaals on the terrace all at once.
There is room for 50,000 guests to sit. Beginning with the month of Safar in 1418, (1997). In 1420, on the 28th Safar, His Holiness Syedna Mohammed Burhanuddin performed the Iftetah amid immense delight and revelation (1999). There are two lifts inside the Mawaid. One for the zuwwars and one for moving thaals to higher floors. There are four stairs as well. Artificial lighting is not required during the day thanks to a unique fiberglass sunroof. The mawaid is built around a garden with a lovely fountain in the middle of it. Because of the generous ne'mats of our Shafik Bawa, eating the royal dinner while sitting by the fountain makes one feel as though they are dining in heaven.
Surroundings
There are gardens, fountains, a helipad, and deer and geese in Dargah-e-Hakimi burhanpur.
Modern computers and infrastructure are present in the freshly built office.
Types and Number of Rooms
Burhani Building 78
Hakimi Bungalows 100
Mohammedi Manzil 100
A.C. Rooms 5
General Halls 4
Travel Advice for Dargah-e-Hakim burhanpur
Before entering the dargah-e-hakimi burhanpur premises, dress modestly and take off your shoes.
Address
Burhanpur, Madhya Pradesh 450331, India
Dargah-e-hakimi burhanpur Contact Number: +91-732545550
Dargah-e-hakimi burhanpur Timing: 24-hrs
Best time to visit Dargah-e-Hakimi burhanpur (preferred time): 08:00 am – 06:00 pm
Time required to visit Dargah-e-Hakimi burhanpur: 00:30 Mins